11-Year-Old Budding Chef and First-Time Author Ilana Christian Releases Her Cookbook for Kids
The kid- and family-friendly cookbook is full of delicious favorites and gets kids excited to cook and spend time with family in the kitchen
Atlanta, Georgia – August 30, 2021 – A newly released cookbook by an 11-year-old girl is helping families have fun in the kitchen with kid-friendly recipes that the whole family will love. Ilana's Cookbook (Amazon, $1.99 Kindle, $16.99 paperback) hit virtual bookshelves in mid-August and is now available for purchase on Amazon, serving up a fun and delicious addition to any family's kitchen.
Ilana's Cookbook was created by 11-year-old first-time author and budding chef Ilana Christian. Ilana used her love for all things cooking and some of her favorite recipes to write her family- and kid-friendly recipe book.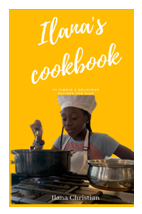 All recipes are easy for kids to make and designed to get kids active in the kitchen and create bonding time for families. Kids can also develop stronger math skills by counting and measuring ingredients found in the recipes.
llana's Cookbook features 50 delicious recipes for meals and snacks that kids and their families will enjoy making and eating. Recipes include Sweet Potato Crackers, Rainbow Pasta Soup, Kid's Funfetti Cake, and Octopus Jello Cups. Each recipe is easy for kids to follow and helps them develop confidence in the kitchen while having fun with food.
"My new cookbook is full of easy recipes that I like making for myself and my family," said Ilana. "I'm excited to share these recipes with other kids so they can have fun creating delicious foods in their kitchens, too. I hope other kids will come to love cooking as much as I do and will enjoy the recipes I'm sharing with them in my book.
To purchase Ilana's Cookbook, visit Amazon.
For more information about Ilana Christian or Ilana's Cookbook or media inquiries, please contact her dad at (404) 447-0133 or [email protected]
Media Contact
Company Name: Ilana's Cookbook
Contact Person: Ilana Christian
Email: Send Email
Phone: (404) 447-0133
Country: United States
Website: https://www.amazon.com/Ilanas-cookbook-Simple-Delicious-Recipes/dp/B09CRY33WC/ref=sr_1_1?dchild=1&qid=1630215543&refinements=p_27%3AIlana+Christian&s=books&sr=1-1&text=Ilana+Christian