The Number 1 Roof Tiles Supplier in the Philippines has Launched its New Website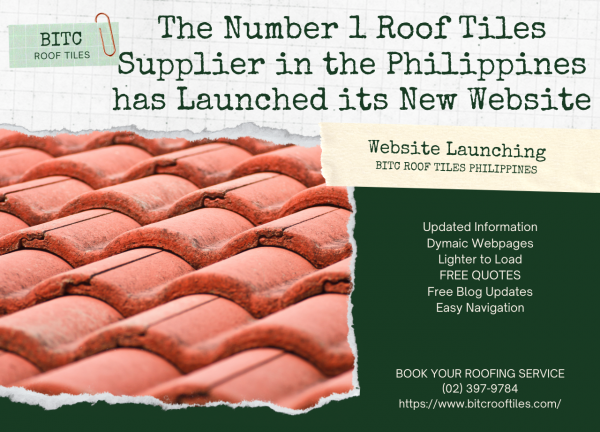 BITC Roof Tiles, a roofing company based in Philippines, has upgraded its website, and made a new makeover containing updated information and products that the company offers as recent blog posts.
The company's website has taken on an entirely new makeover, where they changed the theme to minimalism, making each site's page more dynamic and lighter to load. BITC wants to ensure that the users would not have difficulty navigating their website in both web browsers and mobile apps. The homepage features an introduction about the company, what they do, and several reasons why it is at the top of its game. Moreover, the website also promotes the company's partner suppliers, intending to let the clients know about the quality of their roof tiles before hiring them.
BITC Roof Tiles is a renowned roof tiles Philippines provider, where they offer a variety of high-quality roof tiles, with the following as their partner suppliers:
Butterfly Roof Tiles
Cobert Clay Roof Tiles
Fangxing Synthetic Resin Roofing
GAF Elf Shingles
MAGE Vent Tapes
Roser Stone Coated Steel Roof
Shinto Ceramic Roof Tiles
Tawin Palm Flexible Thatch
Tegola Canadese Shingles
US Tile Authentic Clay Roofing Tile
The website also contains individual pages for each product, allowing the users to explore each one and know more about each type of roof tile. The company's website also provided links, which would lead the users directly to the manufacturer's website to know more about them.
Besides the products and suppliers, the company has also added a dedicated page for its newest blog posts which is being updated regularly to provide new content for users. These posts often include tips and techniques for proper maintenance of different roof tiles and factors that would help the reader choose the right tile for their roof.
Besides the gallery, the webpage also contains a list of all the projects they have done in the past, and clients can visit or research these locations themselves to survey the BITC Roof Tiles.
The company hopes that the website's new makeover would expand their market and attract a more extensive clientele to their company. Their next goal is to partner up with other suppliers to provide a wider variety of roof tile options for their clients and regularly post new content on their website.
Follow us:
Facebook: https://www.facebook.com/theroofingtilessystemspecialist
Youtube: https://www.youtube.com/channel/UCwfG9PPDX6E7r-3upqHwCRA
Instagram: https://www.instagram.com/bitc_rooftiles/
LinkedIn: https://www.linkedin.com/in/bitc-roof-tiles/
Media Contact
Company Name: BITC Roof Tiles
Contact Person: Melvin Dumanlang
Email: Send Email
Phone: (02) 397-9784
Address:Brgy Cupang West Road Alabang Hills
City: Muntinlupa
State: National Capital Region
Country: Philippines
Website: https://www.bitcrooftiles.com/