The dynamics of the Osteomyelitis market size is anticipated to change in the coming years owing to the rising awareness of the disease along with the emerging therapies by key companies
Several pharmaceutical companies across the globe such as Debiopharm, Adaptive phage therapeutic, and others are developing new therapies to treat Osteomyelitis that are expected to join the market in the upcoming years.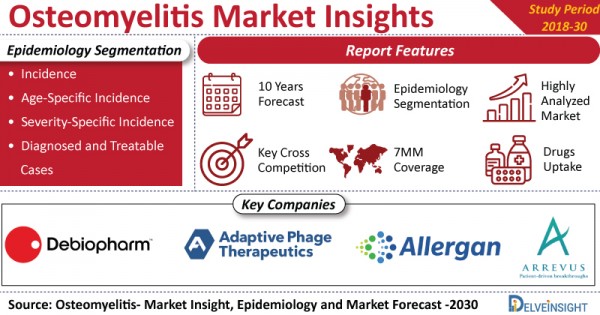 DelveInsight's Osteomyelitis market report provides an in-depth understanding of the Osteomyelitis, historical and forecasted epidemiology, as well as Osteomyelitis market trends in the 7MM (the United States, EU5 (Germany, Spain, Italy, France, and United Kingdom), and Japan). The Osteomyelitis market report also discusses current Osteomyelitis treatment practices/algorithms, Osteomyelitis market drivers, Osteomyelitis market barriers, and unmet medical needs.
Key Highlights from the Osteomyelitis Market Report
According to the National Organization for Rare Disorders (NORD), Osteomyelitis affects about two out of every 10,000 people.

According to Kimona Issa et al. (2018) study, vertebral osteomyelitis (VO), also known as spondylodiscitis, accounts for nearly 3–5 percent of all Osteomyelitis cases.

Key players in the Osteomyelitis therapeutic market include Debiopharm, Adaptive phage therapeutic, Arrevus, Allergan, and others.

Key pipeline therapies in the Osteomyelitis market include Afabicin, PhageBank, Ceftaroline, Sodium fusidate, and several others that are expected to launch and join the Osteomyelitis market in the upcoming years.

Arrevus is developing sodium fusidate (CEM-102) for the treatment of Staphylococcal Bone or Joint Infections. It is an oral antibiotic that is extremely effective against antibiotic-resistant strains of Staphylococcus aureus (MRSA).

Allergan, which is now part of Abbvie, is developing Teflaro (Ceftaroline fosamil) for the treatment of hematogenous osteomyelitis. Ceftaroline fosamil is a cephalosporin that inhibits bacterial cell wall synthesis by binding to penicillin-binding proteins (PBPs).
Discover more about the disease by requesting sample @ Types of Osteomyelitis
The Osteomyelitis market report provides the current treatment practices, emerging drugs, individual therapy Osteomyelitis market share, current, and forecasted Osteomyelitis market size from 2018 to 2030 segmented by seven major markets.
Osteomyelitis: Overview
Osteomyelitis is a type of bone infection caused by bacteria that can be acute or chronic. This disorder develops as a result of an infection in one part of the body spreading through the bloodstream to a bone in another part of the body. The long bones of the legs and arms are most commonly affected in children and teenagers while in adults Osteomyelitis affects the vertebrae of the spine and the hips.
Osteomyelitis Epidemiology Segmentation
The Osteomyelitis report proffers epidemiological analysis for the study period 2018-30 in the 7MM segmented into:
Osteomyelitis Incidence

Osteomyelitis Age-Specific Incidence

Osteomyelitis Severity-Specific Incidence

Osteomyelitis Diagnosed and Treatable Cases
Osteomyelitis Treatment Landscape
Osteomyelitis is a difficult condition to treat. The goal of osteomyelitis treatment is to eradicate the infection while preserving the soft-tissue envelope, heal the bone segment, and maintain limb length and function. The current major options for Osteomyelitis treatment include the use of oral antibiotics and surgery. The oral antibiotics that are used for Osteomyelitis treatment are Clindamycin, Rifampin, Trimethoprim-sulfamethoxazole, and Fluoroquinolones.
Osteomyelitis Market
Key pharmaceutical companies such as Debiopharm, Adaptive phage therapeutic, Arrevus, and others are expected to launch new therapies in the Osteomyelitis market.
The introduction of Afabicin, PhageBank, Ceftaroline, and others are expected to give the Osteomyelitis market a significant boost in the forecast period 2021-30 in the 7MM.
For complete information on the emerging therapies, visit Osteomyelitis Drug Treatment Market
Osteomyelitis Pipeline Therapies and Key Companies
Afabicin (Debio 1450): Debiopharm

PhageBank: Adaptive phage therapeutic

Teflaro (Ceftaroline fosamil): Allergan

Sodium fusidate (CEM-102): Arrevus
Table of Contents
| | |
| --- | --- |
| 1. | Report Introduction |
| 2. | Osteomyelitis Market Overview at a Glance |
| 3. | Disease Background and Overview: Osteomyelitis |
| 4. | Osteomyelitis Epidemiology and Patient Population |
| 5. | Osteomyelitis: Country-Wise Epidemiology |
| 6. | Osteomyelitis Treatment & Medical Practices |
| 7. | Osteomyelitis Key Emerging Therapies |
| 8. | Osteomyelitis: Market Size |
| 9. | 7MM Osteomyelitis: Country-Wise Market Analysis |
| 10. | Osteomyelitis Market Drivers |
| 11. | Osteomyelitis Market Barriers |
| 12. | KOL Views |
| 13. | SWOT Analysis |
| 14. | Appendix |
| 15. | Report Methodology |
| 16. | DelveInsight Capabilities |
| 17. | Disclaimer |
| 18. | About DelveInsight |
For rich insights into Healthcare and Pharmaceutical News, visit Pharma, Healthcare, and Biotech Blog Posts
Related Reports
Get a comprehensive analysis of Osteoarthritis pipeline therapies and key companies such as Ampio Pharmaceuticals, Biosplice Therapeutics, Symic Bio, UnicoCell Biomed CO. LTD, Eupraxia Pharmaceuticals Inc., Eli Lilly and Company, Xalud Therapeutics, Inc., among others.
About DelveInsight
DelveInsight is a leading Business Consultant and Market Research firm focused exclusively on life sciences. It supports Pharma companies by providing end-to-end comprehensive solutions to improve their performance.
Media Contact
Company Name: DelveInsight Business Research LLP
Contact Person: Sandeep Joshi
Email: Send Email
Phone: 9193216187
Address:304 S. Jones Blvd #2432
City: Las Vegas
State: NV
Country: United States
Website: www.delveinsight.com/