Eudemonic Records presents Oh Yay! Riddim; a six-song EP; featuring various artists that embodies all that is great about Soca music arriving on all streaming platforms on August 27, 2021.
CG Dillon, the producer of Oh Yay! Riddim is at the forefront of Trinidad and Tobago Soca music and culture. His musical influences include Machel Montano, Michel Jackson, and David Rudder. Oh Yay! Riddim introduces the world to a different flavour of Soca Riddim, in this style of EP unique to the Caribbean. An heir of culture and sound, CG Dillon fuses all the musical influences of his upbringing and his direct representation of artistry using hard-hitting drums, soothing melodies, and harmonic structure to immerse listeners.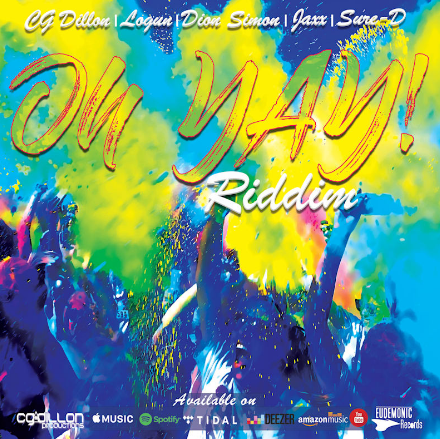 Oh Yay! Riddim unleashes a euphoric, joyful, and uplifting power that builds upon itself with each track. Oh Yay! Riddim arrives confidently refined to deliver a favourable result and reception mixed and Mastered by Badda General. Oh Yay! Riddim starts with CG Dillon drawing critical attention to his adversaries on Yuh Bless Mih, calling out those who aim to be a stumbling block in reaching his life goals.
On Wine For Me, the talented performer and vocalist, Logun, is searching for a special lady to elevate her gyrating skills.
The salacious Pressure features the finely crafted lyrics of emerging female trendsetter and superstar Sure-D, a potential favourite for eligible singles.
Call Mih is a stimulating crowd-pleaser destined for worldwide interest; Dion Simonpassionately delivers his distinct style while offering to satisfy the ladies in attendance.
How We Live features the aspiring talent Jaxx, as he delivers a simple explanation of how Caribbean people like to go out and entertain themselves.
Oh Yay! Riddim by CG Dillon is the final track of the EP manifesting Trinidad and Tobago's riddim and Soca scene transforming it from a vision into reality.
Follow CG Dillon Instagram
Media Contact
Company Name: Eudemonic Records
Contact Person: CG Dillon
Email: Send Email
Country: Canada
Website: http://www.cgdillon.com/