Immerse into the life of Omega Jones with the book "Black Women at Sea" by Anderson Clair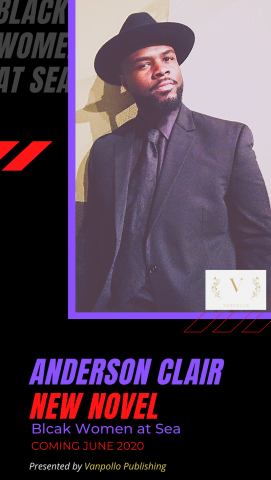 After the success of his first book "Gangs of Watts", the decorated author Anderson Clair has recently released his second book titled "Black Women at Sea" on June 30, 2020. Anderson Clair has already gained support from his readers with his first book, and his second book is an addition to his supremacy.
Anderson has 12 years of experience working as a motivational speaker, activist, author, public figure, and filmmaker. He is in all true sense, a multi-talented person, who has also starred in on-stage productions such as 'The Black Nativity Scene' and 'Choices' a Las Vegas-style show. Anderson has hosted internet talk shows and self-published two of his novels. He has set examples of his perfect writing skills by writing for short films, stage production, and infomercials. His first book 'Gangs of Watts' was featured in the Choice Good art gallery.
"Black Women at Sea" is a book based on a fictional character named Omega Jones, an independent and strong journalist, who is an epitome of a perfect woman in the modern world. She is a brave Afro-American woman, who draws inspiration from the likes of Shirley Chisholm and Rosa Parks. Despite certain turns of events in her life, she manages to land a high profile interview with black women's activist – Zakius Nafari, a multi-millionaire, hosting a free cruise for black women called the 'BlackBerry Experience'. It is when Omega digs deeper and goes to the cruise herself, the reality starts to unfold in front of her eyes and the real adventure begins.
Anderson's book "Black Women at Sea" is published in the English language under the category of 'Fiction- Mystery and Crime'. This book is perfect for all the readers who find thriller and fiction stories interesting. This book will keep you hooked from the first page to the last. This is the magic of Anderson Clair's impeccable writing skills, which will leave you wanting for more.
Order your copy of the book "Black Women at Sea" through this LINK.
Media Contact
Company Name: Vanpollo Publishing
Contact Person: Anderson Clair
Email: Send Email
Phone: 2109108091
Country: United States
Website: vanpollobooks.square.site