Remote Monitoring Reshaping Health: RPM Market Valuation to Hit $175.2 Billion by 2027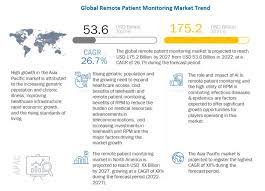 Prominent players in the RPM Market are Koninklijke Philips N.V. (Netherlands), Medtronic (Ireland), GE Healthcare (US), Cerner Corporation (US), Siemens Healthineers AG (Germany), OMRON Healthcare (Japan), Boston Scientific Corporation (US), Abbott Laboratories (US), Resideo Life Care Solutions (US)
Browse 157 market data Tables and 34 Figures spread through 211 Pages and in-depth TOC on "Remote Patient Monitoring (RPM) Market by Product (Software, Services, Devices, Cardiology, Neurological, BP Monitors, Neonatal, Weight, Temperature, Neuro), End user (Providers, Hospitals, Clinics, Homecare, Patients, Payers) – Global Forecast to 2027
The Remote Patient Monitoring (RPM) market refers to the technology and services used to monitor patients' health and medical conditions remotely. It involves the use of various digital devices, sensors, and communication tools to collect and transmit patient data to healthcare providers, allowing them to monitor and manage patients' conditions without the need for frequent in-person visits.
Download an Illustrative overview: https://www.marketsandmarkets.com/pdfdownloadNew.asp?id=77155492
The global remote patient monitoring market is projected to reach USD 175.2 Billion by 2027 from USD 53.6 Billion in 2022, at a CAGR of 26.7% during the forecast period. The rising geriatric population and the growing need to expand healthcare access, cost benefits of telehealth and remote patient monitoring, benefits of RPM to reduce the burden on medical resources, advancements in telecommunications, growing incidences of chronic diseases, and increasing investments in telehealth and RPM are the major factors driving the growth of this market.
Key components of the Remote Patient Monitoring market include:
Wearable Devices: These are devices worn by patients to continuously monitor vital signs and other health metrics.
Home-based Monitoring Devices: These are stationary devices placed in patients' homes to monitor specific health conditions.
Mobile Apps: Mobile applications are designed to work in conjunction with wearable devices or other monitoring tools.
Telehealth Services: These services enable real-time communication between patients and healthcare providers through video calls, voice calls, or secure messaging.
Cloud Platforms and Data Analytics: Patient data collected through remote monitoring is often stored and processed on cloud-based platforms.
Chronic Disease Management: RPM is particularly useful for managing chronic diseases such as diabetes, hypertension, and heart disease.
Aging Population and Home Care: The aging population and the desire for more personalized and convenient healthcare options have driven the growth of the RPM market.
Cost Savings and Healthcare Efficiency: RPM can lead to cost savings for healthcare systems by reducing hospital readmissions and emergency room visits.
Regulatory and Privacy Considerations: The RPM market is subject to regulatory standards and data privacy concerns, particularly due to the sensitive nature of medical data being transmitted and stored.
Request for FREE Sample Pages: https://www.marketsandmarkets.com/requestsampleNew.asp?id=77155492
Key Market Players
The prominent players operating in the remote patient monitoring market Koninklijke Philips N.V. (Netherlands), Medtronic (Ireland), GE Healthcare (US), Cerner Corporation (US), Siemens Healthineers AG (Germany), OMRON Healthcare (Japan), Boston Scientific Corporation (US), Abbott Laboratories (US), Resideo Life Care Solutions (US), Vivify Health, Inc. (US), ALTEN Calsoft Labs (France), Preventice Solutions (US), Bio-Beat Technologies (Israel), VitalConnect (US), Welch Allyn (US), Teladoc Health Inc. (US), Dexcom Inc. (US), iRhythm Technologies, Inc. (US), and VivaLNK Inc. (US).
Koninklijke Philips N.V. (Netherlands) is the leading player in the remote patient monitoring market. The company's expertise, experience, and comprehensive capabilities in various industries and business functions enable it to maintain its leading position in the market.
Medtronic (Ireland) held the second position in the global remote patient monitoring market. The company has a wide geographic base—it operates in more than 350 locations in over 150 countries, with subsidiaries in Ireland, Israel, and the US.
North America is the largest regional market for remote patient monitoring
North America accounted for the largest share of the remote patient monitoring market, followed by Europe. The large share of North America in the RPM market can be attributed to the rising prevalence of chronic conditions, the need to reduce healthcare expenditure, and the increasing overall & geriatric population.
Get 10% Free Customization on this Report: https://www.marketsandmarkets.com/requestCustomizationNew.asp?id=77155492
Media Contact
Company Name: MarketsandMarkets™ Research Private Ltd.
Contact Person: Mr. Aashish Mehra
Email: Send Email
Phone: 18886006441
Address:630 Dundee Road Suite 430
City: Northbrook
State: IL 60062
Country: United States
Website: https://www.marketsandmarkets.com/Market-Reports/remote-patient-monitoring-market-77155492.html