EVONET: The Great Journey to the riches of blockchain
Recently, Afri Schoedon, a former member of the Ethereum team, took on the role of technical advisor to EVONET. This news has caused widespread concern and hot discussion in the blockchain industry.
Afri Schoedon is a software engineer from Berlin with a deep interest in decentralized systems, privacy, anonymity, disruptive technologies, and free software. He believed that technological progress should benefit everyone, not just the privileged. Afri Schoedon has demonstrated outstanding technical competence and innovative thinking during her work as a developer on the Ethereum team. He has been involved in and led several important Ethereum development projects such as Ruby Ethereum, a library for building, signing, and broadcasting Ethereum transactions to sign transactions and process keys anywhere Ruby can be run, and broadcast transactions through any local or remote node. Afri Schoedon is known for his deep technical skills and love of the blockchain industry, becoming a role model for many new developers. Afri Schoedon's professional experience and technical strength make him an attractive candidate for EVONET's technical Advisor.
Afri Schoedon said, "I am confident in the development of EVONET. EVONET's potential deserves to be tried and joined by every technology developer with a passionate vision for blockchain."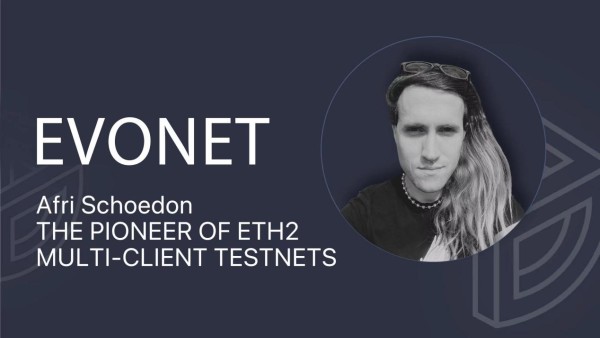 As a system for building decentralized networking networks, EVONET aims to address the scalability and security issues of existing blockchain networks. EVONET has a team of top technical talent in the industry and has made remarkable achievements in technology development, and the addition of Afri Schoedon will inject new ideas and innovative ideas into EVONET. He will serve as an experienced technologist guiding EVONET's miner upgrades and iot model updates. The addition of Afri Schoedon will further enhance EVONET's reputation and influence in the blockchain industry. His name itself represents excellence and success, and his participation will undoubtedly attract more people to the EVONET project and win more support and recognition for the project.
Afri Schoedon's decision to join EVONET is undoubtedly an important milestone for both EVONET and the blockchain industry as a whole. We believe that with the help of Afri Schoedon, the EVONET team will achieve more remarkable achievements and make greater contributions to the development of global blockchain technology!
Media Contact
Company Name: Evonet foundation
Contact Person: Edward
Email: Send Email
Country: Singapore
Website: www.evonetcoin.com