KingKonree Is Shaping the Future Of Solid Surface Excellence Worldwide
KingKonree is elevating solid surface industry standards through unmatched quality, innovation, and sustainable solutions.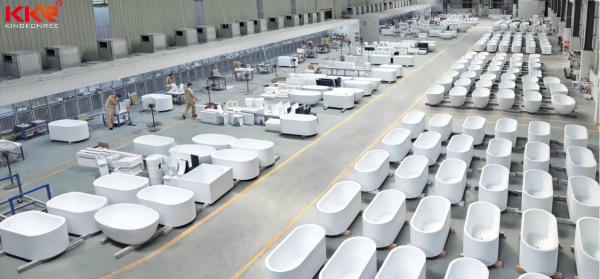 KingKonree is China's No.1 manufacturer of solid surface products with customizable options, including freestanding Bathtubs, solid surface wall basins, above-counter basins, freestanding basins, cabinet basins & solid surface sheets. With highly innovative & diverse, top-notch quality products and a sound commitment to sustainability, KingKonree has established itself as the go-to choice for everyone seeking reliable and lifelong partners for Solid surface products and solutions.
KingKonree's state-of-the-art factory spans over 25,000 square meters in the heart of Huizhou, Guangdong. With cutting-edge infrastructure & resources, including the government-certified, 5-star ECO Production line and a seasoned team of designers, sales and engineers, KingKonree is fully dedicated to superior craftsmanship and safeguarding the environment. From its inception in early 2000, the facility has grown to ship more than 1,200 containers to around 126 countries across the globe.
What sets KingKonree apart from other contemporaries is its continuous pursuit of improvement and supplying its customers with the best quality. The company's non-porous, durable, and cost-effective products have consistently exceeded client expectations. One of the company's technical spokespersons shared, "Resin percentage in our products is almost 33% higher than the industry standard practice in China. We use premium products like steadfast Chinalco® aluminium powder and LR® color paste, ensuring high performance and stability for over 20 years".
The company's wide-ranging product portfolio includes a vast repository of over 1000+ molds that allows customers to choose from an extensive list of design options, an opportunity that no other brand in China is offering. Moreover, KingKonree uses multi-layered packaging, including customizable wooden boxes, durable wrapping and eco-friendly materials, ensuring that products reach the customer securely whilst minimizing their carbon footprint.
With such exceptional services, high product quality, groundbreaking manufacturing facility and dedication to sustainability, KingKonree has truly poised itself as the industry leader in this market. KingKonree has successfully completed more than 2000 projects for over 800 happy clients. Among its standout achievements is working with giants like Marriott and Mandarin Oriental Hotel since 2008.
Moreover, iconic projects like the St. Regis Downtown Dubai, the Cretan Pearl Resort & Spa in Greece, and the Cabrits Resort & Spa Kempinski Dominica in the Caribbean are testament to the organization's ability to deliver exceptional results that redefined luxury.
As KingKonree continues to reshape the landscape of solid surface solutions, its commitment to innovation, quality, and sustainability remains unwavering. With a legacy of excellence spanning 23 years, the company stands as the most trusted partner for solid surface products and services in China.
To explore KingKonree's extensive range of solid surface solutions and learn more about its commitment to excellence, visit www.kingkonree.com or contact Cherry at [email protected]
About KingKonree International China Surface Industrial Co., Ltd.:
For over 2 decades, KingKonree International China Surface Industrial Co., Ltd has been the market leader for solid surface customizable products in China. Its manufacturing facility has the capability to supply over 1200 containers per year. It is based in Huizhou, Guangdong. With its unwavering focus and dedication to quality, diverse features and options for clients, and social responsibility, KingKonree has established itself as the top choice in this sector.
Media Contact
Company Name: KingKonree International China Surface Industrial Co., Ltd.
Contact Person: Cherry
Email: Send Email
City: Shenzhen
State: Guangdong
Country: China
Website: www.kingkonree.com