Jason Amada, Founder of The Top Rated Amazon Store Simpler Goods, Shared His Secrets To Achieve E-Commerce Success
Jason Amada is an Amazon Best Seller who has also released a range of books to help fellow Amazon Sellers achieve success.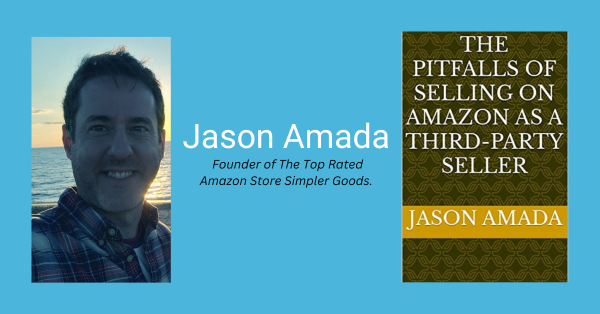 In the dynamic realm of e-commerce, Amazon holds its position as a global powerhouse, granting countless entrepreneurs and enterprises a platform to exhibit their offerings to a vast and diverse audience. Among those who have harnessed the full potential of Amazon's reach is Jason Amada, the visionary founder of Simpler Goods, LLC. In this exclusive interview, Jason offers a peek into his journey, his fervor for aiding Amazon sellers, and the wealth of knowledge he imparts through his written works, blogs, and advisory services.
Q. Hello, Jason Amada. Could you please walk us through your background and the catalyst that propelled you into the domains of Amazon selling and consulting?
Jason Amada: Certainly. An unquenchable curiosity and an unwavering determination drove my venture into Amazon selling. My entrepreneurial spirit has always been a driving force within me. I was astonished when I stumbled upon the astounding possibilities that Amazon presented to sellers. The prospect of accessing millions of potential customers minus the constraints of brick-and-mortar outlets was irresistible. This ignited the spark that led me to plunge into Amazon selling. As my journey unfolded, I gleaned invaluable insights and experience, which led to the inception of Simpler Goods, LLC. The primary objective of Simpler Goods is to share my knowledge and guide fellow sellers through the intricate landscapes of Amazon selling.
Q. Your Amazon Author Page showcases an array of books tailored to assist fellow Amazon sellers. Could you elaborate on the inspiration behind crafting these books and the spectrum of knowledge they offer?
Jason Amada: Without a doubt. The inspiration behind crafting these books was rooted in my fervor for equipping fellow Amazon sellers with the tools and strategies I've amassed over the years. Each book delves into specific facets of Amazon selling, rendering pragmatic insights, systematic approaches, and real-world exemplifications. I firmly believe that knowledge is the cornerstone of empowerment. In the context of Amazon selling, possessing comprehensive knowledge is pivotal for triumph. The collection of books, conveniently available on Amazon, is meticulously tailored to extend pragmatic insights, strategies, and guidance to fellow sellers. Ranging from "Amazon Selling Secrets" to "Navigating FBA: A Guide to Fulfillment by Amazon," each publication delves into distinct domains of Amazon selling, offering step-by-step methodologies, practical tips, and real-world scenarios to empower sellers in making astute decisions and navigating challenges adeptly.
Q. Your website serves as a haven of resources for Amazon sellers. Could you elucidate the gamut of offerings and services available on the platform?
Jason Amada: My website www.jasonamada.com stands as an encompassing repository of insights and actionable strategies meticulously curated for Amazon sellers. Within its virtual confines, visitors can discover an eclectic spectrum of offerings, including enlightening blog articles encompassing subjects such as product research, optimization techniques, and marketing strategies. The conviction that impactful knowledge should be generously shared underpins my approach. My blog serves as a conduit for disseminating experiences, case studies, and expert counsel. Moreover, the website extends personalized consulting services where I provide bespoke guidance tailored to the specific requisites of each individual seller.
Q. One of the stellar features of your website is your blog, where you share enlightening articles about Amazon selling. Could you delve into the catalyst that led you to establish this blog and shed light on the essence of the content readers can anticipate?
Jason Amada: The blog's inception was grounded in the aspiration to furnish a platform where Amazon sellers could access relevant information that directly addresses their challenges. Navigating the realm of Amazon selling can be overwhelming, particularly for newcomers. The blog endeavors to simplify this journey. Its contents span a wide spectrum, encompassing effective product sourcing methodologies, optimization tactics, and marketing strategies. Readers can expect practical advice substantiated by real-world experiences.
Q. It's evident that your blog caters to both novices and experienced Amazon sellers. How do you strike a balance between offering introductory information and advanced strategies?
A: Striking this equilibrium is vital, considering the diverse Amazon seller community, spanning individuals at varying stages of their journey. This balance is achieved by structuring the content to provide both foundational knowledge for beginners and advanced strategies for seasoned sellers. For instance, I might present articles that furnish a step-by-step guide to establishing an Amazon seller account for novices. Simultaneously, I delve into intricate topics like A/B testing for product listings, catering to experienced sellers seeking to optimize their sales.
Q. Can you shed some light on your vision for the future of Amazon selling and share any insights or advice for aspiring Amazon sellers?
Jason Amada: The future of Amazon selling is exhilarating, characterized by the evolution of technology and shifts in consumer behavior. Aspiring Amazon sellers must prioritize staying abreast of industry trends and aligning their strategies accordingly. Embracing challenges as stepping stones to growth is paramount, coupled with seeking insights from experts and fellow sellers. Ultimately, the core of sustainable success in the Amazon marketplace lies in delivering exceptional value to customers.
Q. Where can readers uncover more about your books, consulting services, and insightful blog?
Jason Amada: Readers interested in my books can get the latest information from my Amazon Author Page. For insights, articles, and resources spanning Amazon selling, they can go to my blog. Additionally, those intrigued by personalized guidance can delve into my consulting services, which are meticulously designed to aid sellers in navigating the intricate Amazon selling landscape. For updates, follow my social media accounts.
Q. In closing, is there anything else you want to share with our readers regarding your journey and unwavering commitment to bolstering Amazon sellers?
Jason Amada: My journey with Amazon selling has been profoundly rewarding, igniting a genuine commitment to giving back to the seller community. Through my books, website, and consulting services, my mission is to empower fellow sellers with actionable strategies and insights that can accelerate their trajectory. The Amazon ecosystem is in constant flux, and by cultivating a culture of knowledge-sharing and mutual support, we can collectively amplify the achievements of Amazon sellers worldwide.
Media Contact
Company Name: Simpler Goods, LLC
Contact Person: Jason Amada
Email: Send Email
City: Queens
State: New York
Country: United States
Website: www.jasonamada.com