Permanent Magnets Market To Gain Huge Traction At 8.4% CAGR By 2030 Based on Application Into Wind Turbines Generators, Robotics, Wearable Devices And Electric Vehicles | Grand View Research, Inc.
According to new report available with Grand View Research, the global permanent magnets industry to gain huge demand due to rising usage in various medical devices, such as blood separators, surgical devices, dental equipment, patient monitoring systems, drug delivery systems, and Magnetic Resonance Imaging (MRI) scanners, and other essential & non-essential healthcare devices.
Permanent Magnets Market Overview
The global permanent magnets market size was valued at USD 19.14 billion in 2021 and is projected to reach approximately USD 39.70 billion by 2030, expected to expand at a compound annual growth rate (CAGR) of 8.4% over the forecast period.
The rising prominence of renewable energy sources, such as wind and solar, is anticipated to positively aid the market growth over the forecast period. At present, permanent magnets are used in wind turbines generators for increasing their efficiency. Rare earth magnets, such as Neodymium Ferrite Boron (NdFeB), are being predominantly used in wind turbines owing to benefits, such as increased reliability and reduction in maintenance costs.
Gather more insights about the market drivers, restrains and growth of the Global Permanent Magnets Market
The demand for rare earth magnets in the U.S. is expected to grow at a higher rate than its ferrite counterpart over the forecast period owing to its wide usage in high-end applications like robotics, wearable devices, electric vehicles, and wind power. Since the economic meltdown of 2008-09, the automotive industry in the U.S. has grown steadily. The country has been witnessing a significant rise in the adoption of plug-in electric cars, primarily driven by the advanced products offered by key players, such as Tesla, Chevy, Nissan, Ford, Audi, and BMW, among others. In early 2018, Tesla became one of several electric car makers to use motors with neodymium magnets.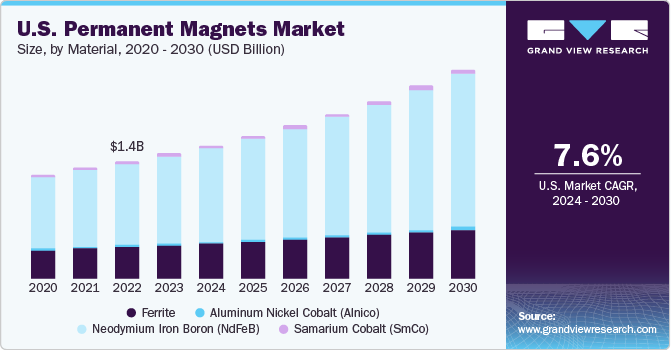 However, due to fewer permanent motor magnet manufacturers in the country, it imported 4 million pounds of automotive parts from China, with the bulk of them being electric motors. The escalating trade war with China is likely to represent a significant challenge for the U.S., as China threatens to cut off its supply of rare earth and associated products to the U.S. To reduce its reliance on raw material sourcing of rare earth materials, the government has taken various steps including funding mining projects under the Defense Production Act. Such initiatives are likely to strengthen the raw material supply for the domestic industry in the U.S.
The emergence of the COVID-19 pandemic directly impacted the operations of key manufacturing and industrial sectors in the country, thereby resulting in a GDP decline of nearly 3.5% in FY 2020. The recovery was observed during the last quarter of FY 2020 as the manufacturing sector resumed production in a staggered manner. On account of the massive fiscal packages offered by the U.S. government to uphold industrial production, the domestic market for permanent magnets has undergone a steady recovery in 2021.
Permanent Magnets Market Segmentation
Based on the Material Insights, the market is segmented into Ferrite, Neodymium Iron Boron (NdFeB), Aluminum Nickel Cobalt (Alnico) and Samarium Cobalt (SmCo).
The ferrite material segment dominated the market in 2021 and accounted for the largest volumetric share of more than 80.6%. Ferrite magnets are primarily used in motor applications.
Neodymium Iron Boron (NdFeB) is projected to emerge as the second-largest material segment with the fastest CAGR, in terms of volume as well as the revenue over the forecast period.
Alnico is the name for an alloy composed of aluminum, nickel, and cobalt. Permanent magnets based on alnico were considered to be the strongest magnets before rare earth magnets, such as NdFeB, were discovered in the 1970s.
Based on Application Insights, the market is segmented into Automotive, Consumer Goods & Electronics, Industrial, Medical, Energy, Aerospace & Defense and Others.
Consumer goods & electronics accounted for the largest volumetric share of more than 26.5% and emerged as the leading application segment in 2021.
The industrial application segment held the third-largest share, in terms of volume, in 2021.
Based on the Permanent Magnets Regional Insights, the market is segmented into North America, Europe, Asia Pacific, Central & South America, and Middle East & Africa (MEA)
Asia Pacific accounted for the largest volumetric share of nearly 76.0% in 2021. The region is a manufacturing hub of the world. Automotive and electronic productions are critical components of the region's manufacturing activities.
Europe is anticipated to emerge as the second-largest regional market by 2030 although the region witnessed a sharp decline in 2020. This is because industrial production in Europe has observed slower growth in the past few years due to the overall economic slowdown and due to political uncertainties, such as Brexit.
Browse through Grand View Research's Advanced Interior Materials Industry Research Reports.
Filters Market – The global filters market size was estimated at USD 72.33 billion in 2021 and is expected to grow at a compounded annual growth rate (CAGR) of 5.1% from 2022 to 2030. Growing emphasis on the reduction of emissions from automotive and industrial applications is expected to drive market growth over the forecast period.
Aluminum Extrusion Market– The global aluminum extrusion market size was valued at USD 87.84 billion in 2021 and is expected to expand at a compound annual growth rate (CAGR) of 7.5% from 2022 to 2030. The automotive & transportation sector is witnessing an increase in aluminum content in internal combustion as well as Electrical Vehicles (EVs), which is likely to boost the market growth over the forecast period.
Market Share Insights:
April 2019: Bunting Magnetics introduced ElectroMax Overband Magnet at Bauma. This new product will help the company to serve the customer requirements for lighter, more compact, and smaller electro overband magnets.
February 2019: At MGE Innovation Center complex in Wisconsin, U.S., the R&D facility is opened by Arnold Magnetic Technologies. This will allow the company to offer rapid prototyping of permanent magnets, thin metals, electromagnetic, and various engineered assemblies.
Key Companies Profile:
On account of the presence of large-scale rare earth metal deposits in China, numerous small, medium, and large-scale manufacturers are located in close vicinity. The manufacturers are mostly focusing on developing or innovating new products with higher efficiency to cater to high-end performance industries, such as defense, aerospace, and automation.
Some prominent players in the global permanent magnets market include
Adams Magnetic Products Co.
Earth-Panda Advance Magnetic Material Co., Ltd.
Arnold Magnetic Technologies
Daido Steel Co., Ltd.
Eclipse Magnetics Ltd.
Electron Energy Corporation
Goudsmit Magnetics Group
Hangzhou Permanent Magnet Group
Hitachi Metals Ltd.
Magnequench International, LLC
Ningbo Yunsheng Co., Ltd.
Ninggang Permanent Magnetic Materials Co., Ltd.
Shin-Etsu Chemical Co., Ltd.
TDK Corporation
Thomas & Skinner, Inc.
Vacuumschmelze GMBH & Co. Kg
Ugimag Korea Co., Ltd.
UNION MATERIALS CORPORATION
Pacific Metals Co., Ltd.
Order a free sample PDF of the Permanent Magnets Market Intelligence Study, published by Grand View Research.
About Grand View Research
Grand View Research is a full-time market research and consulting company registered in San Francisco, California. The company fully offers market reports, both customized and syndicates, based on intense data analysis. It also offers consulting services to business communities and academic institutions and helps them understand the global and business scenario to a significant extent. The company operates across multitude of domains such as Chemicals, Materials, Food and Beverages, Consumer Goods, Healthcare, and Information Technology to offer consulting services.
Web: https://www.grandviewresearch.com
Media Contact
Company Name: Grand View Research, Inc.
Contact Person: Sherry James, Corporate Sales Specialist – U.S.A.
Email: Send Email
Phone: 1888202951
Address:Grand View Research, Inc. 201 Spear Street 1100 San Francisco, CA 94105, United States
City: San Francisco
State: California
Country: United States
Website: https://www.grandviewresearch.com/industry-analysis/permanent-magnets-industry